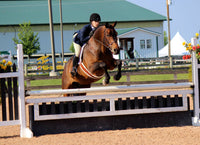 MADE FOR THE EQUESTRIAN BY AN EQUESTRIAN
Being on the show circuit for so many years, we have hand picked items with the equestrian in mind! We know you are busy, so that is where we come in to get you and your clients gear you love, with a few fast steps! 
Get in touch!
ONE STOP SHOPPING!
With Grand Impression Design Co. we aim to make your life easier with one stop shopping! 
Convenient for trainers to set up shops for apparel/gear for clients/owners to purchase! 
Convenient for clients/owners to purchase all items in one place & have it shipped to their door!
Convenient for shoppers who are shopping for the horse lover in their life! 
Can you think of an item you would like made? Contact Us, we would love to hear from you!